Seesaw's school dashboard gives you insight into your school and allows Admin's to centrally manage all of the classes, teachers, and students using Seesaw at your school. Each tab on the dashboard will allow you to manage different things - classes, teachers, students, skills, and analytics. Please find more information about each tab below, and feel free to check out our other school dashboard resources as well!
The Overview Tab
Here's where to find your school's weekly stats, some recently added posts, and your admin toolbox.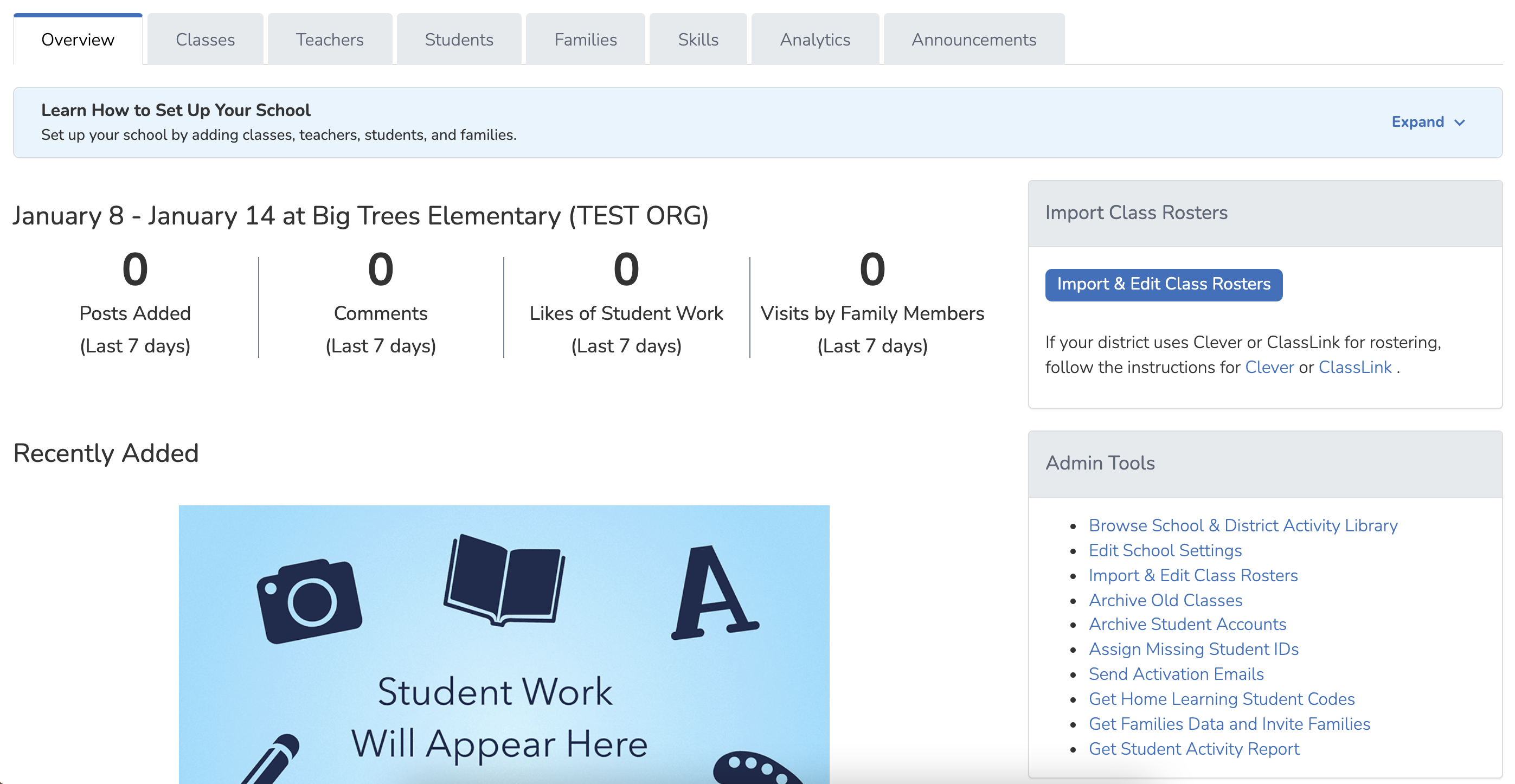 School Setup Checklist: A one-stop shop for getting your school launched for the new school year! Add teachers with existing Seesaw accounts, set up your CSV roster, and connect students to their family members.

Weekly Stats: Quickly understand what is happening in your school each week. See the number of new posts, likes, comments and family visits in your school.
Posts Added:

New posts added to student journals or activity responses in last 7 days. Posts can be added by students or teachers.

Comments:

New comments added by students, teachers, families in the last 7 days.

Likes of Student Work:

New likes added by students, teachers, families in the last 7 days.

Visits by Family Members:

Number of times family members visited Seesaw in the last 7 days.
Recently Added: See new student work in your school. You can even leave a like or comment to engage with the students at your school!
Admin Tools: We've made it easy to find all of the frequently used admin tools in one spot. You can:
Edit School Settings:

Assign Missing Student IDs

so student portfolios carry over from year to year

Send Activation Emails to teachers who need to activate their account
The Classes Tab
The Classes tab gives you a quick view of all your active classes.


From this tab, you can:
Search

for a class you would like to view. Just type the Class name into the search bar and click on the Class Name to view as an Admin.

Create

a new class by tapping on the Add Individual Class button, or use

'Add or Edit Classes in Bulk'

to create many classes at once.

If you're creating more than just a single class, we suggest you use the 'Add or Edit Classes in Bulk' option.

Edit

a class. Add or remove teachers or students, manage Class Settings, or archive the class!

Hover on the

name

and tap on the [...] option on the right-hand side.


Note:

It is not possible to merge classes at this time. If students have posts in two separate classes,

you will need to merge the student accounts together

so that students will maintain access to all of their items through the Past Work tool.

View

your archived classes by tapping 'Show Archived Classes'.

The Teachers Tab
The Teachers tab will show you all of the teacher accounts connected to your school.

From this tab, you can:
Create a new teacher account
Note: Teachers can now be connected to more than one dashboard at a time. If you have teachers that work at multiple schools that are using Seesaw for Schools, please read through this article.

Edit a teacher's name, account info, and classes by tapping [..] > 'Edit Teacher'.
The Students Tab
The Students Tab will show you all of the student accounts connected to your school.

From this tab, you can:
Create a new student account

Use 'Add or Edit Students in Bulk' to create/update many student accounts at once.

Search for a student by name or Student ID.

Tap [...] > 'Edit Student' to edit a student's account.

You can change their name, profile photo, student ID, classes they are enrolled in, and more!

Download a student's journal

View archived student accounts

You may need to use this tool to merge student accounts or reactivate a student's account.

Download a CSV of your student accounts

This CSV Export will give you a list of all students (active and archived) in your school.

It will display student names, student IDs, email addresses, archive statuses, number of connected family members, and which active classes they are enrolled in.
The Families Tab
The Families tab will show you all of the family members connected to the students at your school.

From this tab, you can:
Use 'Add or Edit Families in Bulk' to add new family members and update existing family members.
The Skills Tab
Use Skills to help teachers see student progress towards key learning objectives. Skills are fully customizable to learning goals in your school. Using Skills, teachers can tag student posts with school-defined standards, and gain real-time insight into student progress towards key curriculum objectives. Optionally, teachers can assign a star rating based on a 3-, 4-, 5-, or 6-star scale to student work to get a real-time understanding of how students are progressing towards key curriculum objectives, inform instruction, and save time on reporting.
Teachers only see the skills that match the grade level of the class they teach, or skills marked with 'All.'
From this tab, you can:
Create a new skill

Edit an existing skill

Hover on the skill and tap [...] > 'Edit Skill'. You can update the name, subject, grade level, category quick code, and description.

Import School Skills
The Analytics Tab
Use the Analytics tab to measure tech use and family engagement at your school.
With Seesaw Analytics, you can measure:
Total Posts

Weekly Posts

Weekly Feedback

Weekly Family Engagement
Seesaw Analytics can help you understand if and when your students and teachers are using the technology resources you've invested in. Use this data to show that your school is getting the most out of your technology investment as a whole.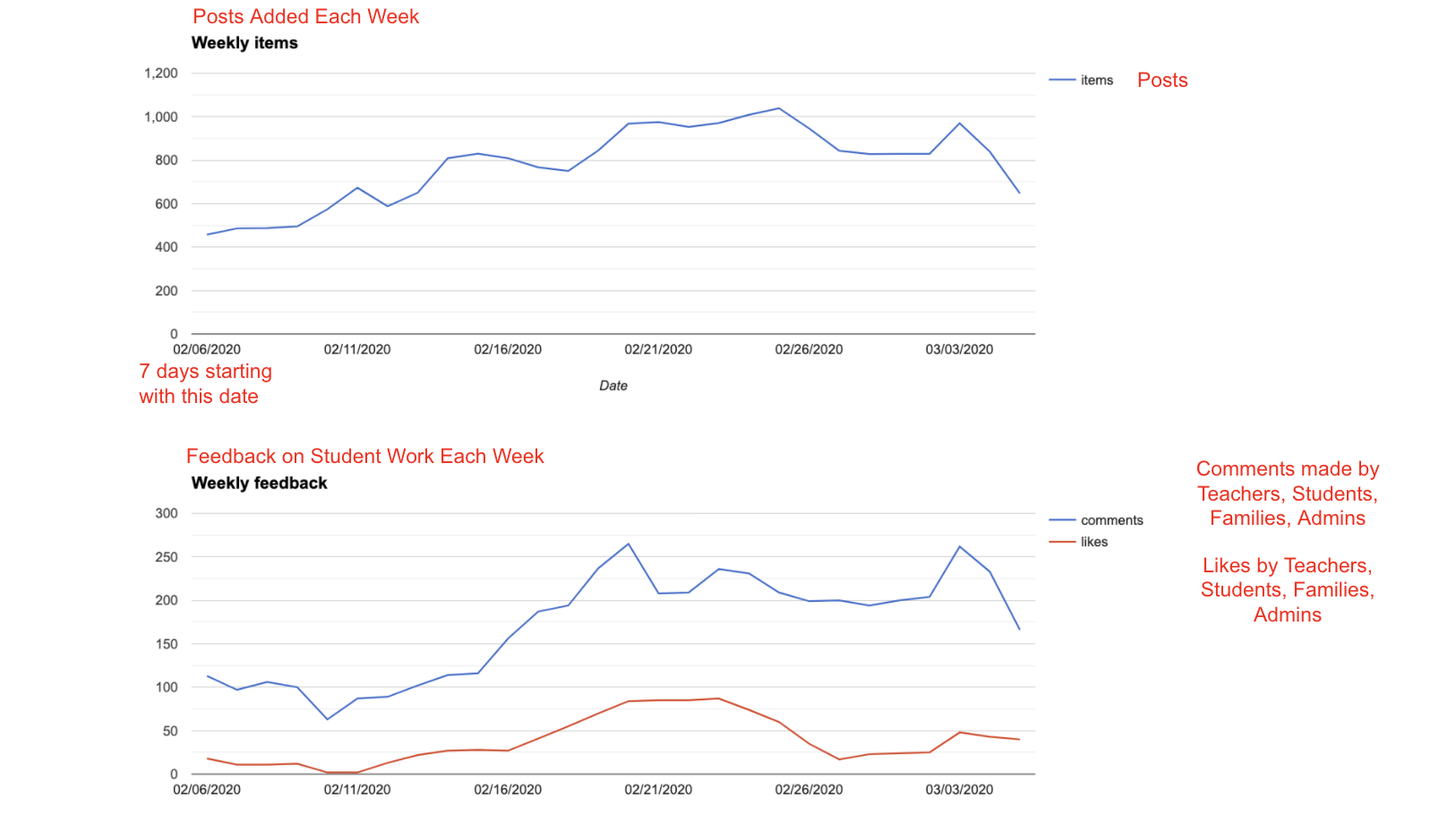 You can also understand in real-time if you're meeting your family engagement goals for your school and understand Seesaw's impact on improving the home-school connection at your school.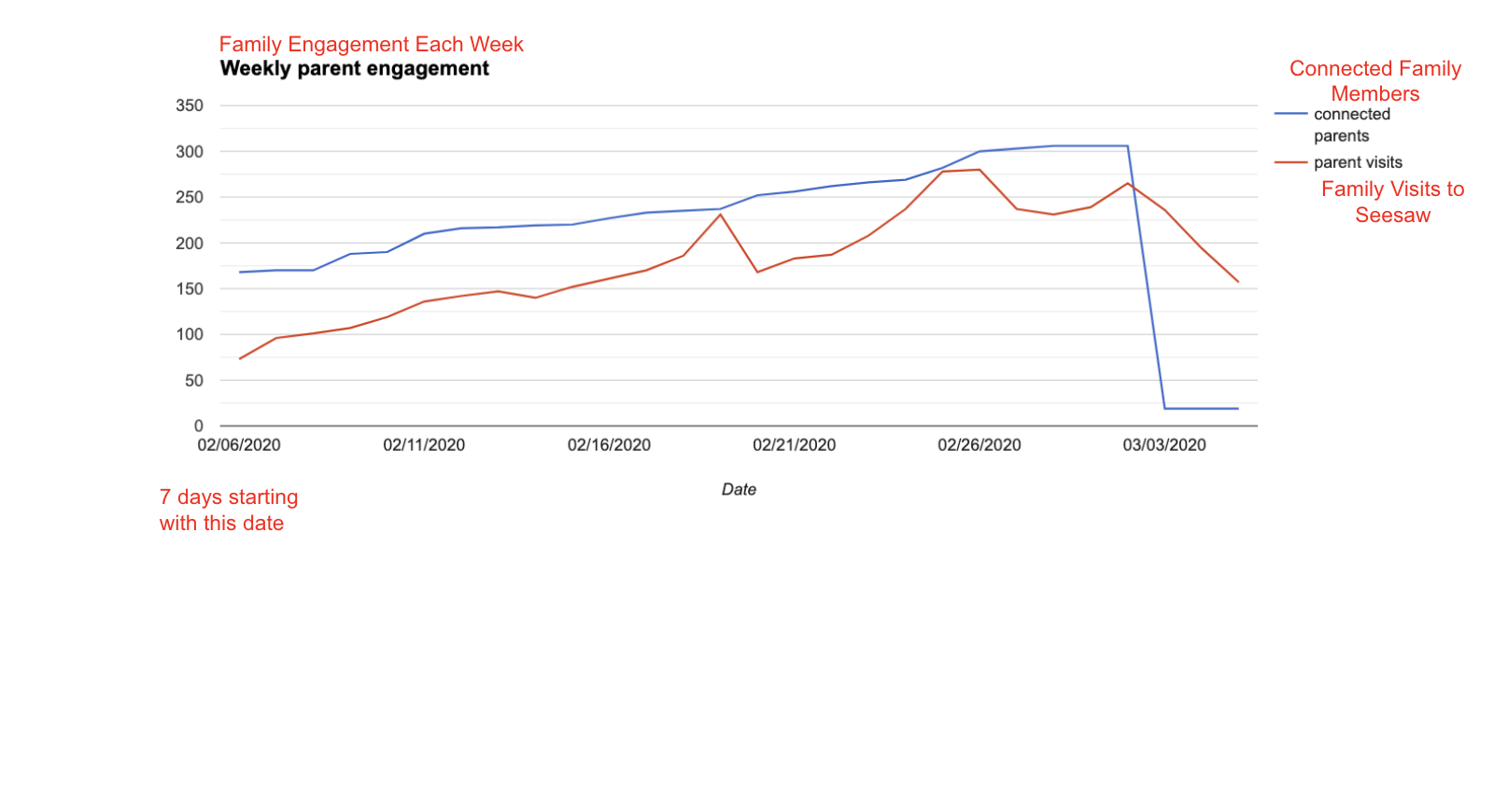 Watch our professional development session all about using this tab! This 1-hour session will show you how to get the most out of your Seesaw investment. We'll cover how to measure Seesaw usage, simple ways to create community through Seesaw, inviting families, and using Seesaw Analytics.