Schoolwide settings allows you to manage class settings on a schoolwide level!
To adjust settings at the school level: 
Sign in your admin account at https://app.seesaw.me.
Tap the Edit School Settings link in the Admin Tools area on the right side. 
Tap School Settings. From here, you can Enable a setting for ALL classes in your school, Disable a setting for ALL classes in your school, or Let Teachers Decide on the setting. Choosing Let Teachers Decide will set all settings to the Seesaw default. Seesaw defaults  all of these settings Enabled with the exception of Family Access, which has a default of disabled. With this setting, teachers can enable/disable settings through the wrench icon in their individual classes.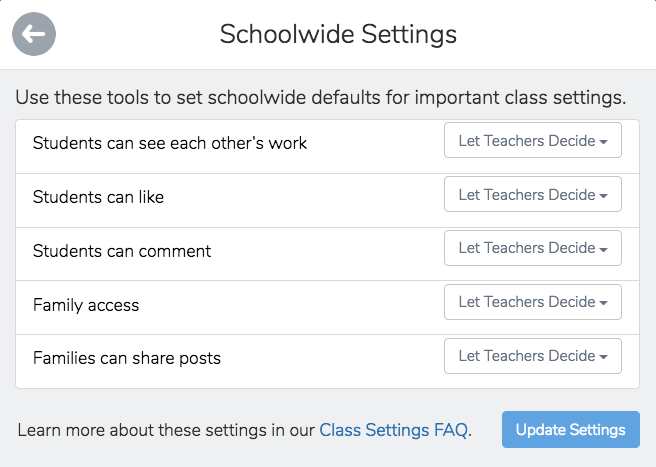 4. Tap Update Settings and enter the text to confirm the change for all classes in your dashboard.
If you are not able to find a setting you are looking for, click into the Classes tab, then hover on a class and then choose 'class settings'. From this view you can edit other class-specific settings.