Schoolwide settings allow you to manage class settings on a schoolwide level!
To adjust settings at the school level:
Sign in to your admin account at https://app.seesaw.me.
Tap the Edit School Settings link in the Admin Tools area on the right side.
Tap School Settings. From here, you can Enable a setting for ALL classes in your school, Disable a setting for ALL classes in your school, or Let Teachers Decide on the setting.

Choosing Let Teachers Decide will set all settings to the Seesaw default. Seesaw defaults all of these settings Enabled except for Family Access, which has a default of disabled. With this setting, teachers can enable/disable settings through the wrench icon in their classes.


Tap Update Settings and enter the text to confirm the change for all classes in your dashboard.
If you are not able to find a setting you are looking for, tap the Classes tab, then hover on a class, and then choose 'class settings'. From this view you can edit other single class-specific settings.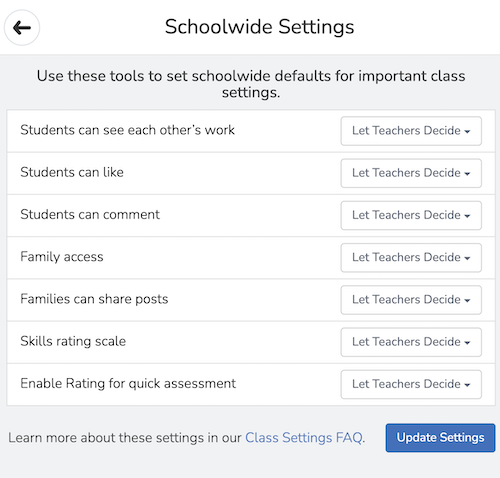 Students Can See Each Other's Work: Allow Students to view their classmate's posts in their Seesaw Classes
Students can Like: Allow students to like their own, and their classmate's posts.
Students can comment: Allow students to comment on their own, and their classmate's posts.
Family Access: Allow Teachers to add families to their classes so family members can view their child's work. If this setting is turned to Enabled, Family Access will be turned ON for all classes. Family members that were connected to their child's account in years past will be granted automatic access to the new classes their child is enrolled in.
Families can share posts: Allows family members to share posts from their child's journal via link or social media, as well as save items to their computer or device.
Skills Rating Scale: Allows you to set the rating scale for Skills for all classes in your school. You can let teachers decide or select a 3, 4, 5, or 6 star scale.
Enable Rating for quick assessment: Allows teachers to provide star ratings on student posts for rapid assessment.