There are several methods for creating summer school courses in Seesaw. CSV Rostering is the preferred method, as it allows Admins to create classes and roster students without interacting with the Clever/ClassLink Sync (if your district typically rosters with Clever/ClassLink). However, Seesaw supports all of the below approaches to rostering summer classes.
Option 1: CSV Rostering
CSV Rostering can be used if you have summer school students coming from many schools across your district to one site. Students who are connected to a different school than the one hosting summer learning will need an email address added to their account. Please add an email address to any student accounts prior to importing your CSV Roster. Students do not need to sign in to Seesaw using email, they can continue to use QR code sign-in.
After you have completed the End of Year steps, create your Summer School classes.
Using the CSV Roster Template, create new classes for teachers to use over the summer.
Upload CSVs to the dashboard(s) that may be hosting summer school sessions. For more information on CSV Rostering, please click here.
Please note that students must be CSV Rostered, or already connected to the School Dashboard that the Summer School class is connected to in order to join the class.
What happens once we are done with our Summer classes?
Once teachers and students are done with their Summer classes, the classes will need to be bulk archived to be ready to roster for the next school year. The steps are the same as the instructions for End of the Year.
Option 2: Clever or ClassLink Rostering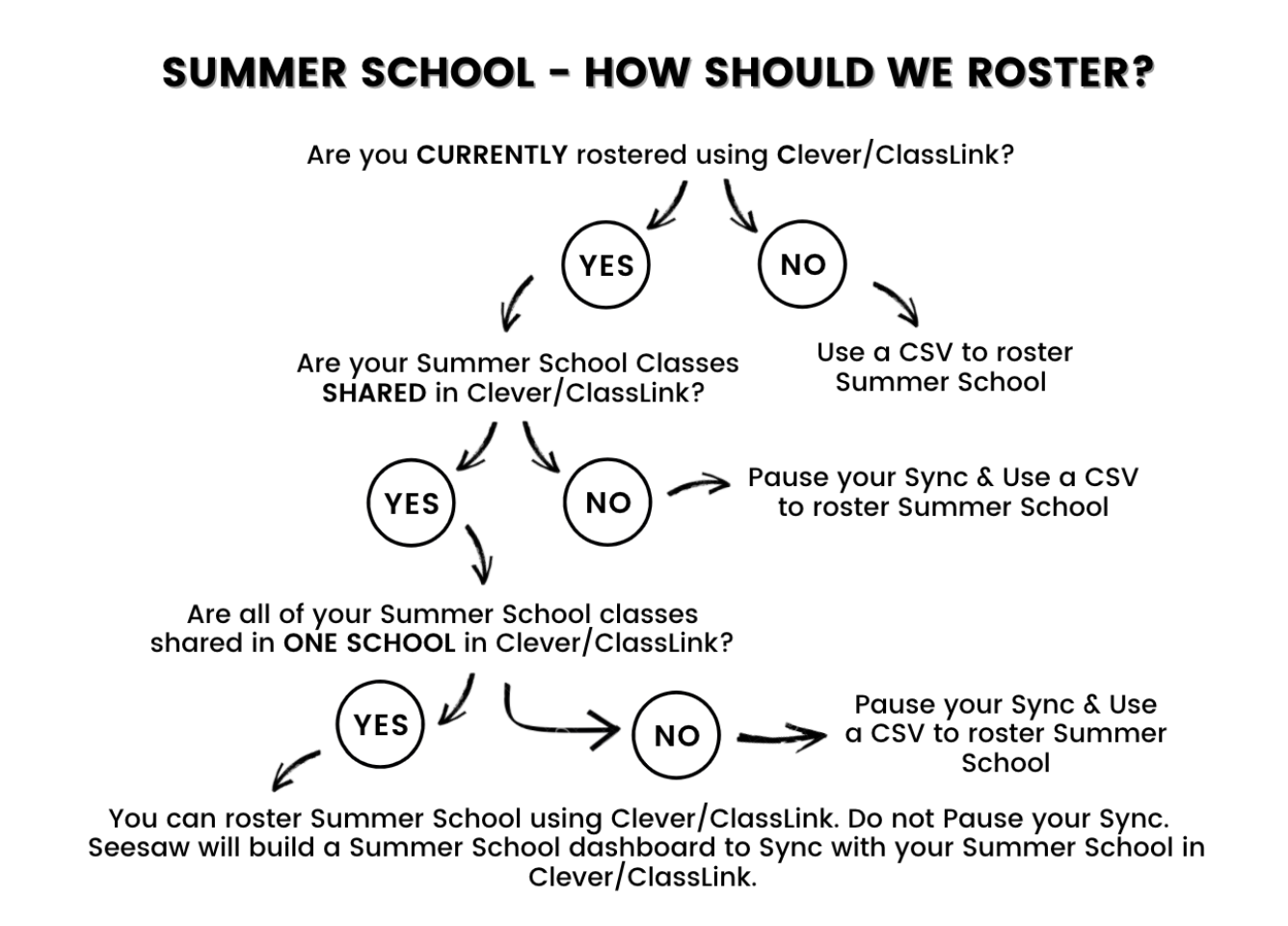 Clever:
It is possible to roster students for summer school with Clever. To start that integration process, click here to
figure out what rostering method is right for you
.
ClassLink: Summer school data may already exist in the Roster Server, or, you can add it towards the end of the year by your SIS. The only action that you may need to take is to add the new courses/classes to the permissions. Here's how to add courses/classes to your permissions.
If your district does not have a Summer School Dashboard created in Seesaw and you need one, please contact Seesaw Support.
Note: Clever and ClassLink summer school integrations are only available for districts who currently use Clever or ClassLink to roster their classes in Seesaw.
Frequent Summer School Questions
How will Summer classes be impacted by our Roster Sync?
Seesaw automatically pauses syncs on June 30th for all Districts.
If you need to share your Summer classes after June 30th, please reach out to Seesaw Support to remove your District from this Pause list.
If you will be rostering summer classes prior to June 30th, the nightly sync will take charge of archiving your previous school year's classes and creating and rostering students in their Summer Classes.
Once Summer Classes are over, rerun the sync to archive these classes, or wait until you are ready to sync your new school year classes and run the sync then.
Please note that all Districts must run a Manual Sync at the start of each school year to reestablish the nightly sync with Clever and/or ClassLink.
How do we roster classes?
We traditionally recommend CSV rostering for summer school dashboards and classes. Teachers and students included in the CSV upload will be added to the summer school dashboard if they aren't already rostered there. Their accounts will remain in their original schools, and students can be active in both schools at the same time.
If I roster via CSV can my students still sign in via Clever/ClassLink SSO?
If you traditionally roster Seesaw classes with Clever/ClassLink and would like to CSV Roster your Summer classes, students need to be rostered using the same email address and SIS_ID (Clever) or Source ID (ClassLink) in order to have their accounts linked, and continue to be able to use the Clever/ClassLink SSO option.
Can we roster summer school classes with Clever/ClassLink?
Yes. If the summer school classes are being shared in Clever/ClassLink to a specific summer school site, this is possible. We cannot sync summer school classes being shared from a regular school to the summer school dashboard. We can sync the summer classes to their regular school dashboards if that is how they are being shared. If you need a Summer School Dashboard built in Seesaw, please reach out to Seesaw Support.
Do we have to pay extra for summer school licenses?
Adding a summer school dashboard will artificially inflate the number of licenses being used for the district, as licenses counted on a school-by-school basis do not account for students in multiple school dashboards. However, these students have already been accounted for and they will not need additional licenses.
If you will be rostering students outside of the grade levels they have purchased, please reach out to your Account Manager or Seesaw Support to gather an additional quote.
What do we do at the end of the summer?
CSV Rostering - When summer school ends, please follow our End of Year steps to archive these classes and students.
Clever/ClassLink - Once classes are ready for the new academic year and are included in the sharing rules/permissions, summer classes no longer being shared will be archived. New classes will be rostered after resuming the nightly sync and initiating a full/manual sync.
How will students access their summer school portfolios?
Student portfolios live in the class where they were created. As long as students are rostered with the same student ID and/or email address, the student and family members will have access to historic data and their journals will remain connected. If a student is active on multiple dashboards, the Teachers and Admins can only view the historic work that was created in the dashboard where they are connected.
Family, students, or District administrators can download a copy of the student's journal as needed.