School Settings for Messages allows School Administrators to decide who at their school can engage in private messaging and who with! Admins can customize their school's messaging experience based on the communication needs of their school community.
Note: District Administrators are able to manage messaging settings for all schools in their district. If a District Administrator chooses anything other than "Let Schools Decide", School Administrators cannot change that setting. School settings will be overridden by district settings. If your school had no prior setting set, it will acquire whatever the district setting is.
Settings can be updated by school admins for individual schools from each school dashboard.
Please note that these settings do not impact a teacher or administrator's ability to send class announcements.
How do I access Messages settings?
Navigate to your School Dashboard.
Tap the gear icon (top right) to access School Settings.


Select Messages Settings.
What are the default Messages settings?
Messages Settings control which roles can start conversations in the school, and with whom. The below image shows the default settings for Messages:
If your District Admin has configured settings, this will be reflected in Messages Settings as shown below.
Please note: 'Create conversations' means searching for and initiating a 1:1 or group conversation or privately replying to announcements.
Examples of Messages Settings
Families can create conversations with class teachers or Families can create conversations with any teacher or administator
Only allow families to create conversations (and reply to class announcements) with class teachers.
Note: families can add a co-family member (connected to the same student) in conversations with the teacher or teacher/admin (but not if the teacher isn't in the conversation).


Class-limited, teacher-initiated conversations
Teachers can start conversations with families and students in their classes only.
Students and families cannot start conversations or respond to announcements.



No staff-student messaging
Turn off all staff-student 1:1 and small group messaging.



No private messaging
Turn off all 1:1 and small group messaging.

Students and family members cannot reply to announcements


When sending out a message to everyone in your class or school, be sure you're choosing 'Announcement' instead of 'Group Chat' for your conversation type (in addition to updating the above settings).


See who has viewed messages
Announcements are one-way messages and do not show information about who else is receiving the message to other recipients.

To see who has viewed a Conversation, tap on Seen By.
Can Admins View Messages?
Yes. Using the Admin Visibility feature, School Admins have the ability to view messages (including deleted messages) sent to a class or sent by a person in their school within a date window, and view seen state and edit history.
To view a video demonstration of this feature, watch the video here.
To access the Admin Visibility feature navigate to to the School Dashboard.
1. Select the tab you want to view: Classes, Teachers, Students, Families. In this example, the Admin is viewing the Teachers tab.
2. Tap the 3 dots to the right of the user.
3. Tap View Messages.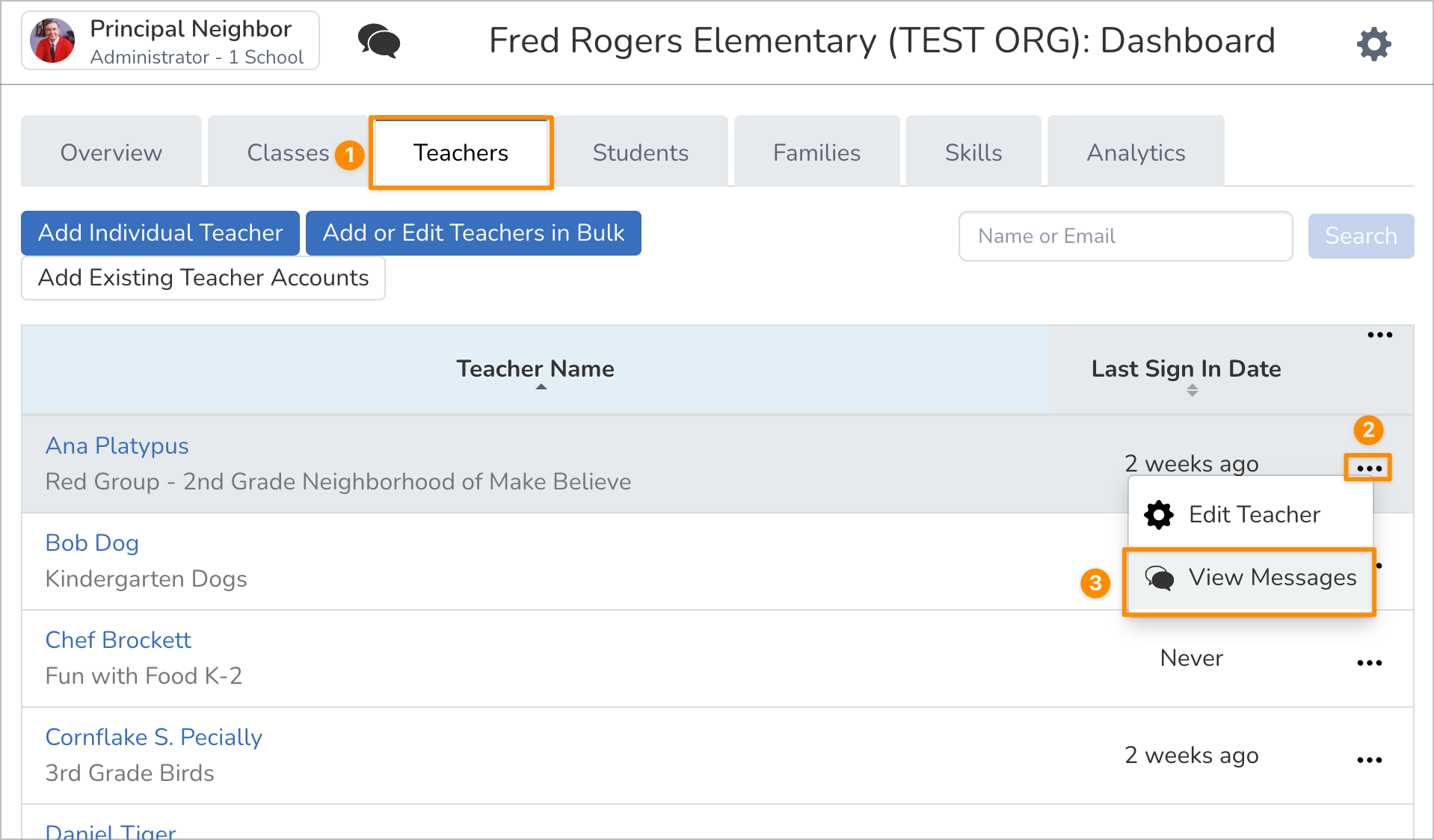 4. Select the date range for the messages you want to view (maximum of 30 days) and select the View Messages button.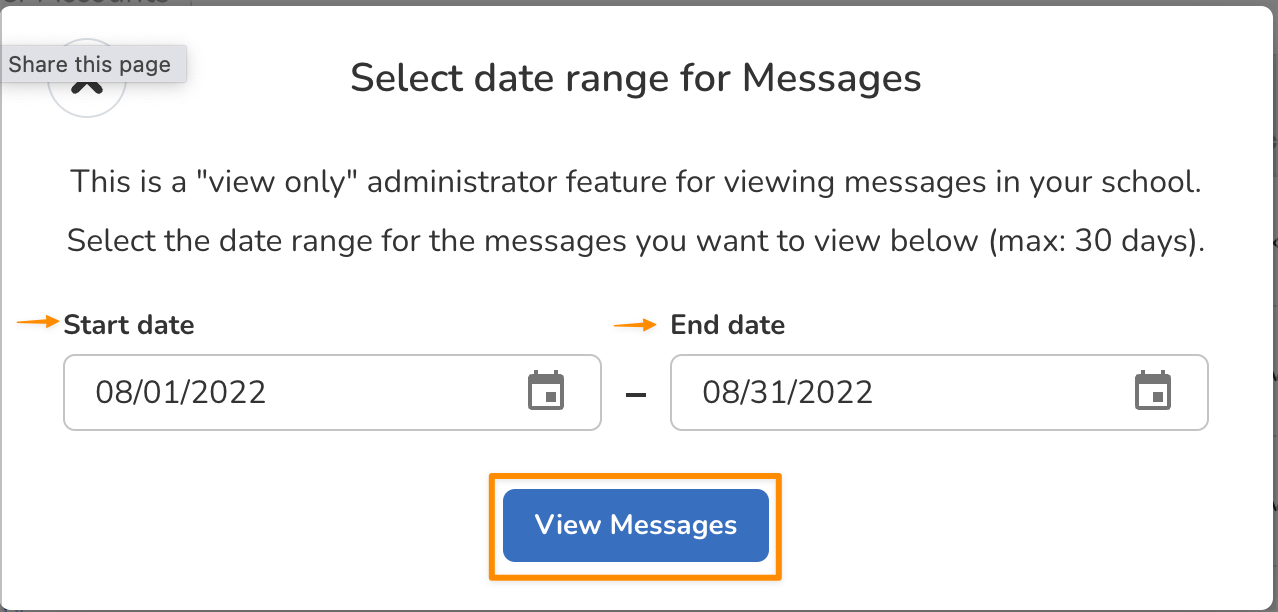 5. You will now be viewing Messages as the user you selected. A banner will appear at the top of the window indicating the Messages of the user account you are viewing, with the option to change dates.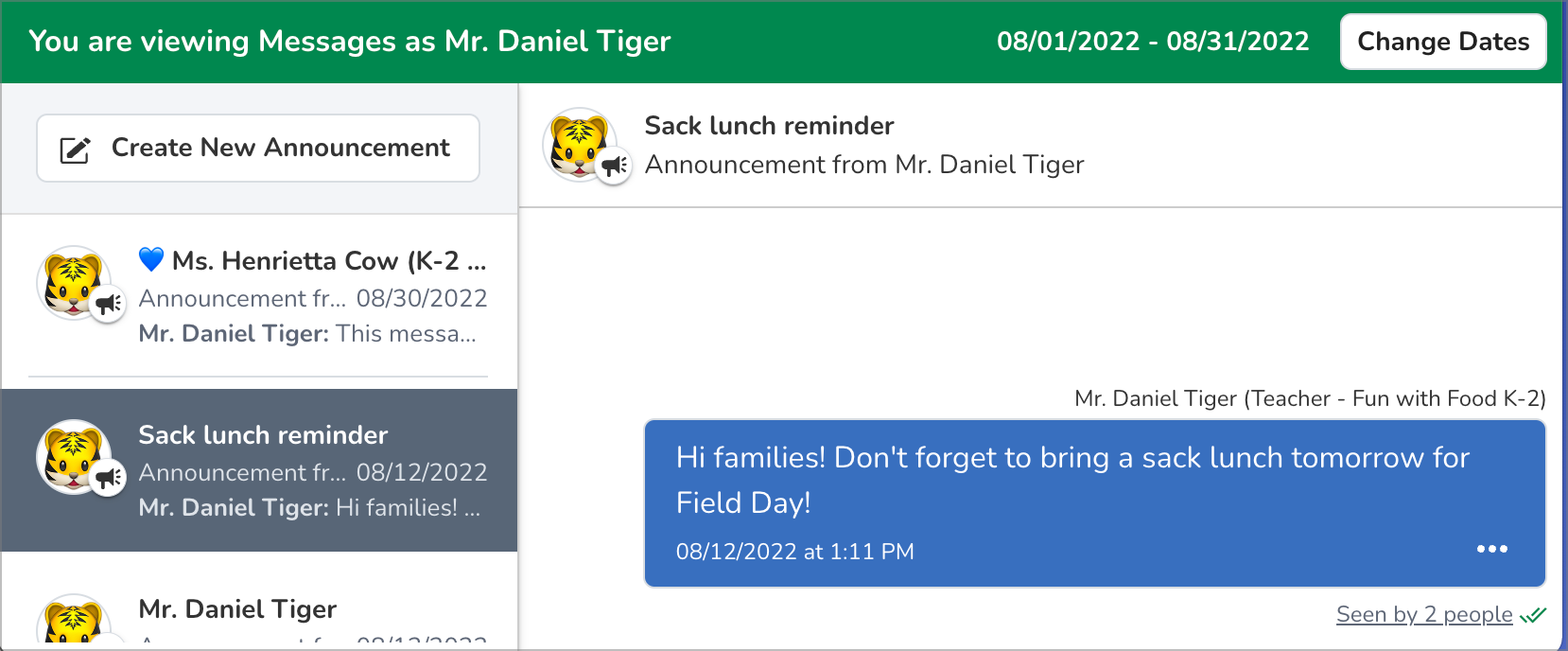 Can Admins remove messages on behalf of Teachers?
Yes. Admins can remove messages on behalf of teachers from the Admin Visibility feature or from within the message thread.
Follow the steps above to access messages in the Admin Dashboard. Next:
1. In the class or user profile you selected above, select a message you would like to remove.
2. In the message view, tap the 3 dots menu and select Remove Message.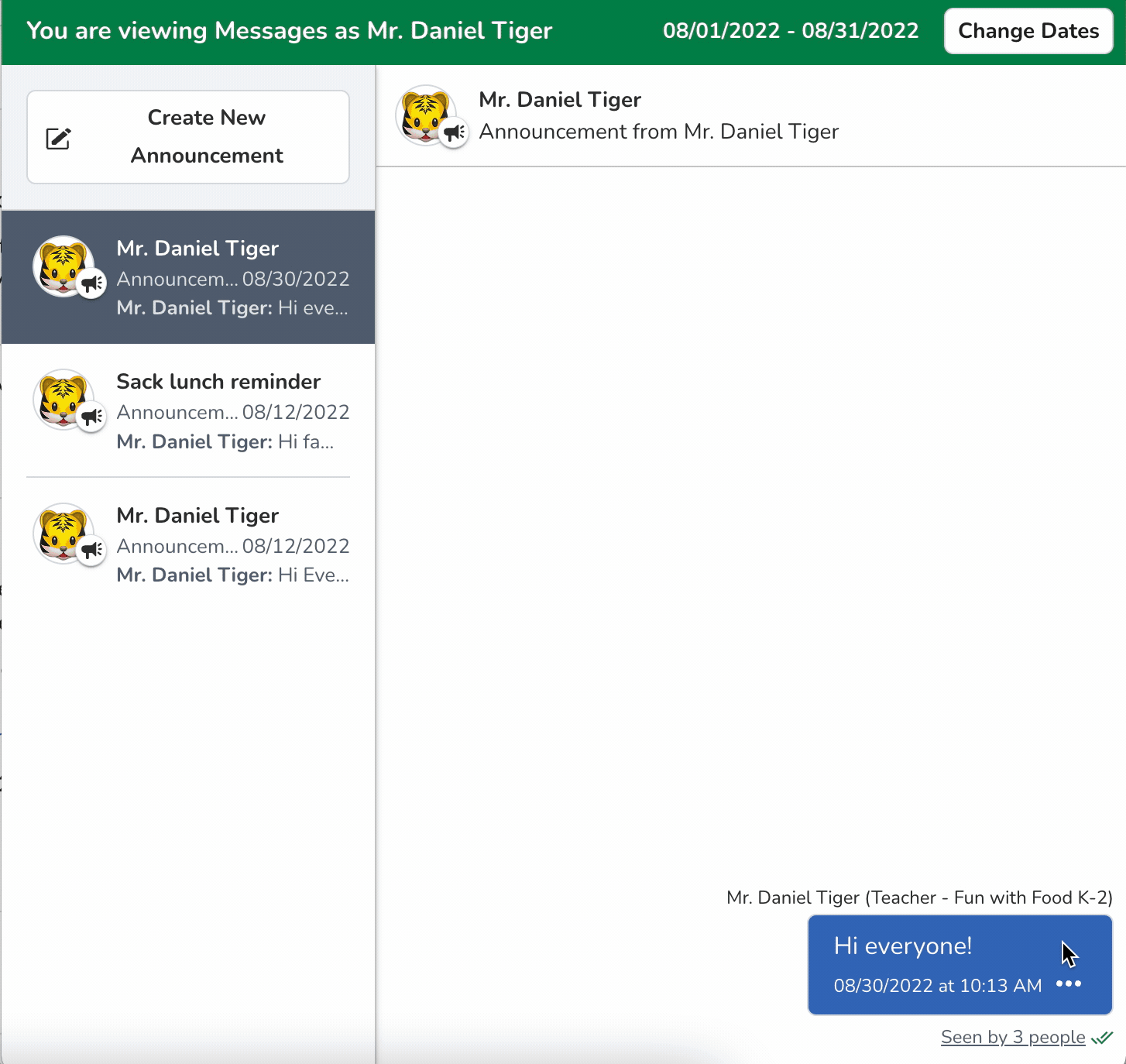 Can I close threads when settings change or classes are archived?
Yes. Archiving a class will "close" all message threads associated with that class so no one can post to them in the future.
When admins change messaging settings that control who can message whom in their school, these changes are retroactively applied to message threads that were previously created.
For more information about school settings for Messages, check out our Messages Quick Start Guide for Administrators!