Coming Soon: Seesaw Messages
Have you heard? The messaging experience is getting an upgrade! Messages is still in early access and is not yet available for all Seesaw for Schools users. For more info about Messages, tap here.
Already using Messages Early Access? Find Early Access help and resources here.
Teachers and families can now translate Seesaw content into over 55 languages!
If a note, caption, comment, announcement, or message is written in a language that is different from the language of a family's or teacher's device, a "See Translation" option appears below the post. Tap "See Translation" and Seesaw automatically translates any text into your native language. Students do not have access to this feature.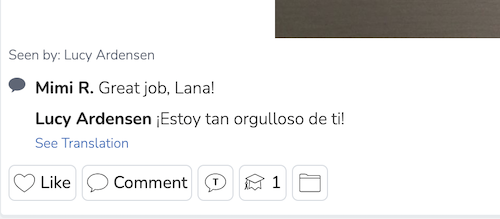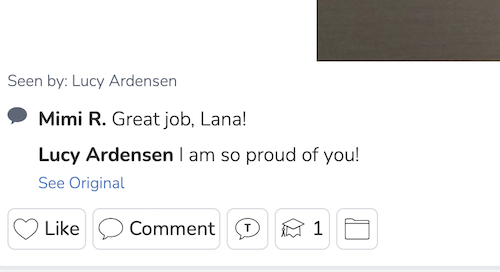 Translation works for notes, captions, comments, announcements, and messages.
Available on all platforms (iOS, Android, Kindle, Web)
"See Translation" only appears if the note/caption/comment/message is written in a language that is different from the language of the viewer's device or computer.
"See Translation" only appears for teachers and families, not students.
Additionally, our family invite letter is now available in 10 different languages on the web through the "Invite Families" button!
Seesaw translation supports the following languages:
Afrikaans - Afrikaans (af)
Arabic - العربية (ar)
Bulgarian - български език (bg)
Bengali - বাংলা (bn)
Catalan - català (ca)
Chinese (Simplified) -中文(Zhōngwén), 汉语, 漢語 (zh-cn)
Chinese (Traditional) -中文(Zhōngwén), 汉语, 漢語 (zh-tw)
Czech - čeština, český jazyk (cs)
Welsh - Cymraeg (cy)
Danish - dansk (da)
German - Deutsch (de)
Greek -

ελληνικά (

el)
English (en)
Spanish - español (es)
Estonian -

eesti, eesti keel (

et)
Farsi -

فارسی (

fa)
Finnish -

suomi, suomen kieli (

fi)
French - français (fr)
Gujarati -

ગુજરાતી (

gu)
Hebrew -

עברית (

he)
Hindi -

हिन्दी, हिंदी (

hi)
Croatian -

hrvatski jezik (

hr)
Hungarian -

magyar

(hu)
Indonesian -

Bahasa Indonesia (

id)
Italian -

italiano (

it)
Japanese -

日本語 (にほんご) (

ja)
Kannada -

ಕನ್ನಡ (

kn)
Korean -

한국어 (

ko)
Lithuanian -

lietuvių kalba (

lt)
Latvian -

latviešu valoda (

lv)
Macedonian -

македонски јазик (

mk)
Malayalam -

മലയാളം (

ml)
Marathi -

मराठी (

mr)
Nepali -

नेपाली (

ne)
Dutch -

Nederlands, Vlaams (

nl)
Norwegian -

Norsk (

no)
Eastern Punjabi -

ਪੰਜਾਬੀ (

pa)
Polish - język polski, polszczyzna (pl)
Portuguese -

Português (

pt)
Romanian -

Română (

ro)
Russian - Русский (ru)
Slovak -

slovenčina, slovenský jazyk (

sk)
Slovene -

slovenski jezik, slovenščina (

sl)
Somali -

Soomaaliga, af Soomaali (

so)
Albania -

Shqip (

sq)
Swedish -

svenska (

sv)
Swahili -

Kiswahili (

sw)
Tamil -

தமிழ் (

ta)
Telugu -

తెలుగు (

te)
Thai -

ไทย (

th)
Tagalog -

Wikang Tagalog (

tl)
Turkish -

Türkçe (

tr)
Ukrainian -

Українська (

uk)
Urdu -

اردو (

ur)
Vietnamese -

Tiếng Việt (

vi)
See more translated resources and family invite letters
here.