👤 Audience: Seesaw Administrators
ACTION REQUIRED
Confirm your third-party app settings for Seesaw by October 23, 2023 in the Google Admin Console.
Overview
On October 23, 2023, Google is enhancing app access controls to better protect student data privacy. If your students use Google SSO to access Seesaw, you will need to follow the below steps.
What do I need to do?
If your students use Google to sign in to Seesaw, Admins must mark Seesaw as a trusted app between now and October 23, 2023 to avoid disruption in accessing Seesaw.
Steps to confirm third-party app settings
Google provides a guided experience for super admins and admins with the Security privilege.
Click Continue to view the first step.
Confirm settings for unconfigured third-party apps.
Choose the Allow users to access third-party apps that only ask for Google sign in info option.
Click Next.
Confirm settings for configured third party apps.
Review the apps and their settings in the Access (for top-leel org unit) column.
Click Add app > Auth App Name or Client ID > search for Seesaw.
Confirm Seesaw is set to Trust.
Review the confirmation details, then click Confirm.
What happens if we do not approve access for third-party apps?
Beginning October 23, 2023, users designated as under 18 will NOT be able to access Seesaw. The below errors will occur in Seesaw when a user tries to sign in via Google.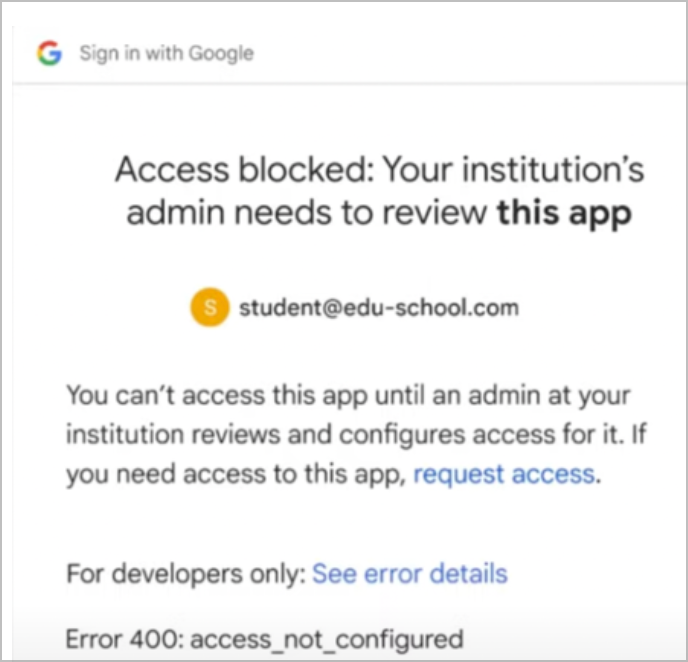 Error 400: access_not_configured - received when an OAuth connection is rejected because your app has not been configured.
Error 400: admin_policy_enforced - received when an OAuth connection is rejected because the administrator has blocked your application.
Google Resources
Please view the below resources from Google's Help Center for more information.