Here is a 1-page overview about Seesaw & Google Classroom that you can share with your admin and colleagues. For more specific details about how to use Seesaw with Google Classroom, please review the sections below.
Rostering Students in Seesaw with Google Classroom
Have a Google Classroom that already has students added? You can create your Seesaw class and roster your students by importing from Google Classroom!
When you create a new class, click the "Import from Google Classroom" option. If you do not choose this option when initially setting up your classroom, you will not be able to select this option later.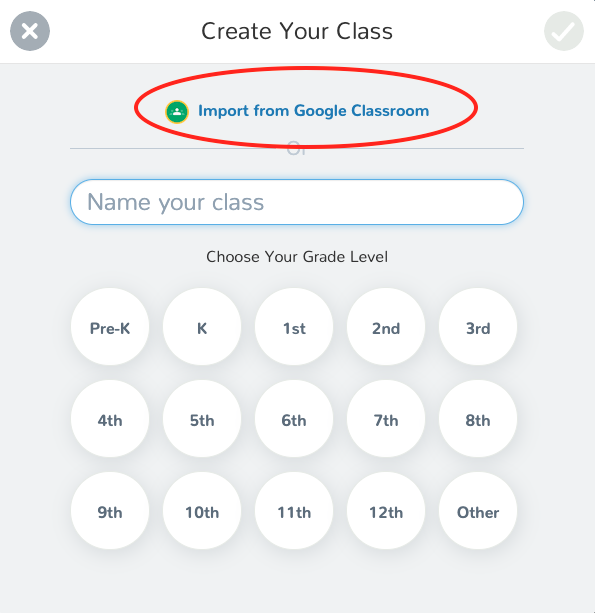 If you're already logged in with your Google account then you'll be asked to grant Seesaw access. Otherwise, you'll be prompted to log in and grant Seesaw access to your Google account.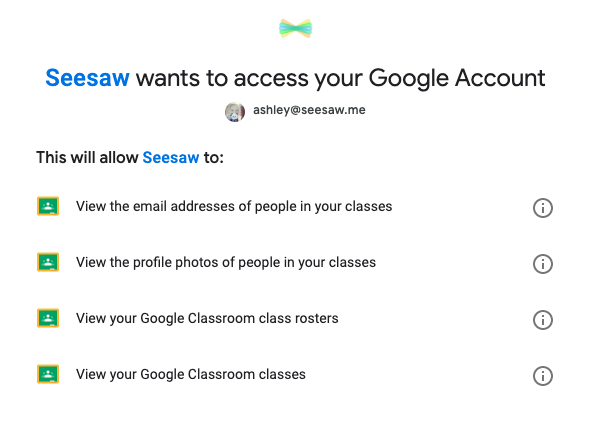 Select your Google Classroom from the list to create the class in Seesaw and roster your students!
If new students are added to your Google Classroom, you can update your Seesaw Roster and have them added to your Seesaw class by tapping the wrench icon (in Seesaw) > scroll down and select Import from Google Classroom.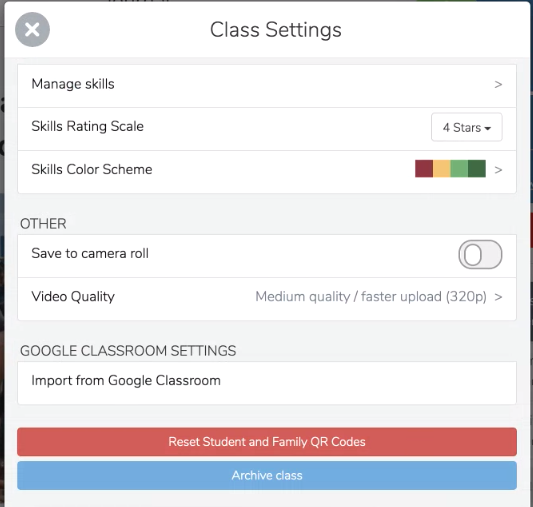 Note: New students will be added, but no students will be removed from Seesaw if they're no longer in your Google Classroom. You'll need to remove students from your Seesaw Class manually.
Assigning Seesaw Activities in Google Classroom
To share a link to a Seesaw assignment into Google Classroom
Share the activity to your Seesaw class
Tap the [...] > Get Student Link on any activity and copy the activity link.
Paste that activity link into Google Classroom.
This link will take students straight to the activity on web, iOS or Android app. Students must be signed in to Seesaw and a member of your Seesaw class to access the activity.

Adding Google Files into Seesaw
Link to Google Files: If you want students to be able to access Google Docs, Google Slides, Google Sheets, Google Drawings, Google Form, videos or other Files in Google Drive, you can add a link to those files into a post, activity example or template or message. Just choose the "Link" option and paste in a link to the Google file. Students will need to be logged into their Google account to access the Google links or the file permissions need to be set to "anyone with the link can view".

Upload Google Files: If you want students to annotate on top of a Google Docs, Google Slides, Google Sheets, Google Drawings, you can upload to those files into a post, activity example or template or message. Just choose the "Upload" option, then choose Google Drive, then select the file. Seesaw will convert your file into a series of annotatable pages. Studnets will also able to access a link back to the original file as a PDF and in Google.

Troubleshooting: I Added My Google File and Now Students Can't Move Anything
When you upload a file from Google Drive into Seesaw, we don't retain all of the interactable elements. We flatten the slide and then you can add more things in Seesaw. If you don't like this, you have two options.
Option 1: Import your file using the steps above, then remake the parts the you want to be interactable in Seesaw using Seesaw's tools.
Option 2: Use the "Link" tool to link to the file in Google directly and have the kids do the work in Google (instead of importing the pages into Seesaw via the Upload tool). Students will do their work in Google and when they're done, they can either link to their file in Google Drive via Link tool or upload their completed response in Seesaw via Upload tool. If you add /template/preview to the end of your Google Docs or Slides URL, Google will show a button that asks students to make a copy of the file before doing their own work on it.
Sharing Student Posts or Activity Responses from Seesaw into Google Classroom
You can use share links to share student posts or activity responses between Seesaw and Google Classroom.
Click "share item" for the post that you would like to share to your Google Classroom:

Copy the share link and go to your Google Classroom.
Click the "link" tool when adding a post to your Google Classroom and paste the Seesaw link.