Present to Class allows teachers to present multimedia materials during whole class instruction and guided practice. This interactive whiteboard for whole class participation makes learning come to life through video, interactive texts, online artifacts, teacher modeling, and more! Following instruction, Seesaw tools on an interactive whiteboard level up student engagement in guided practice.
Present to Class is available on all lessons and activities, including lessons in the Seesaw Library, Community Library, and activities teachers create themselves. After you have selected the lesson or activity you would like to share with your class, follow the steps below to get started!
How do I use Present to Class?
Present to Class feature can be accessed from individual activities and lessons, as well as from the
Activities tab
.
From a lesson or activity
In the lesson or activity you would like to present in your classroom, select the Present to Class button.

You will now be in "Present to Class" mode! From here, you can view the activity, use whiteboard tools to interact with the activity, and view all activity pages at a glance.
Note: any markups made with the whiteboard tools on the activity will not be saved.
From the Activities tab
Tap the Activities tab and view Activities either in the list view or calendar view.

To Present to Class, hover over an Activity thumbnail. Click on the thumbnail.

How do I preview a lesson or activity?
Lessons or activities can be previewed by hovering over the thumbnail of the lesson or activity with your mouse. While hovering, a click to preview option will appear.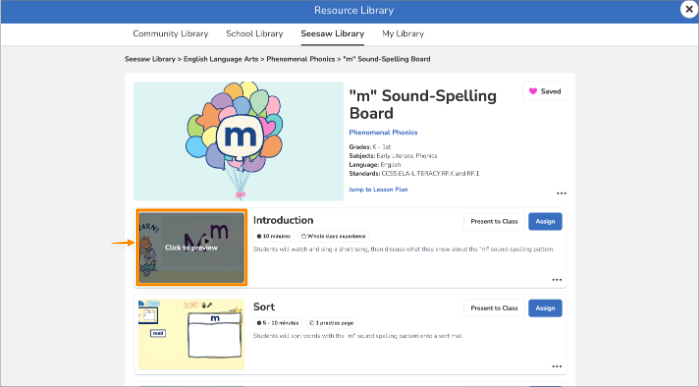 Once you have clicked on the thumbnail, you will be able to advance through the activity pages to preview. To exit preview, click the X in the upper left hand corner.