Yes! You can add projects created in most popular content creation apps into Seesaw journals. Seesaw is compatible with any app that supports sharing or exporting a photo, video, PDF or link and Google apps! 
How to add work from other apps:
Import from Camera Roll/Gallery: You can add projects that are saved in the device camera roll/gallery to Seesaw. From the Add Item screen, tap the Camera Roll button and then select the item you want to add, such as photos, videos,

graphics, collages, etc.

Post directly from other apps into Seesaw via the Share Extension (iOS 8) or Open In (iOS 7) menus on iOS, or through the Share menu on Android.    
__________________________________________________
Here's how to post from other apps into Seesaw on iOS: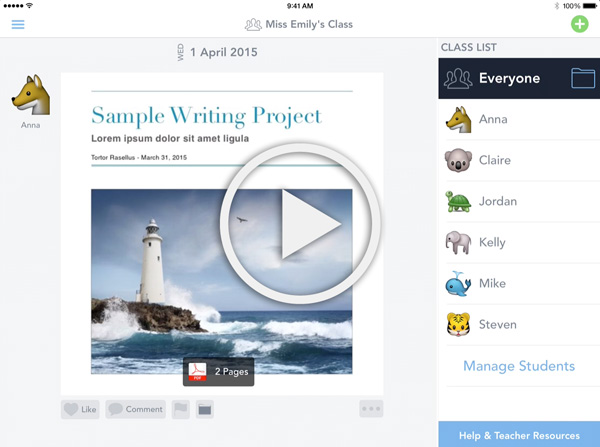 Here is how to enable the iOS 8 Share Extension for Seesaw: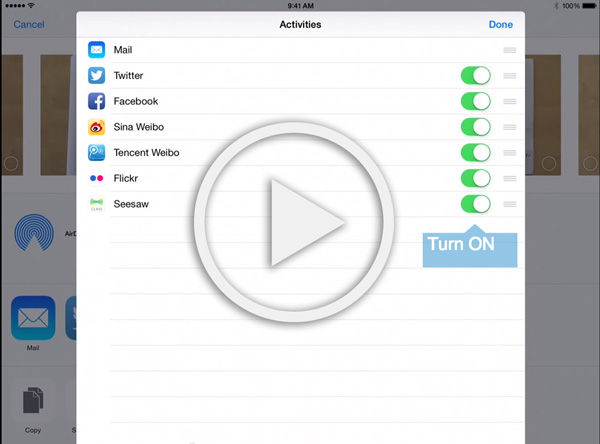 Open the Photos app and tap on any image.
Tap the Share button (bottom left)
In the first row of icons, swipe to the end of the list and tap More. 
A list of installed apps that support Share will show up here, including Seesaw. Slide the on/off switch to ON for Seesaw. 
Tap Done. 
Now when you tap the Share button in many content creation apps (Book Creator, Google Drive, Keynote, Pages, Explain Everything, iMovie, Pic Collage, Shadow Puppet, Skitch, etc.) you can add your project directly into Seesaw. 
Using Google Apps Together with Seesaw
You can add work created with Google apps like Docs, Slides or Sheets, directly into Seesaw portfolios! Seesaw will automatically convert files into PDFs for easy viewing, or pull in photo or video files stored in Google Drive. 
Say goodbye to messy link sharing and problems with connected families not being able to view files—Seesaw and Google work together seamlessly in your classroom!
This feature is supported across all platforms—iOS, Android and the web!