How do I end our current school year?
Step 1: Assign Student IDs and Merge Journals
Seesaw uses the Student ID to tie together a student's portfolios from different classes and years.
You might have students who started off on the free version of Seesaw who don't have Student IDs. Some of these students may also have multiple journals because they used Seesaw in multiple classes.
If you want teachers to access those portfolios next year, you'll need to assign the students a Student ID and merge duplicate journals.
If you don't need teachers to access historical portfolios next year, skip this step!
Note: Students in Email/Google Classes will not appear in the Missing IDs section. Their Student IDs can be added during your CSV Roster Import for next year.

Here's how to Assign Missing IDs and Merge Accounts
Sign in to your

Seesaw for Schools Admin Account

.

On the Overview tab, click 'Assign Missing Student IDs' in the Admin Tools section.

Type in each student's Student ID. If your school doesn't use Student IDs, you can use something like JohnA1, JohnF2, ClaireV1.

Use the 'Filter by' option to filter student names by class. This can be helpful if you are only adding IDs to students in select classes.

Don't forget to click Save!
Step 2: Export CSV
Some admin have found it helpful to export a CSV of their current student accounts. This can be a big time saver when you're creating rosters for next year's classes.

This export will have Student Name, Email Address, and Student ID listed on it. You can copy and paste this information into next year's CSV Roster.

It is incredibly important that Student IDs you use next year match the ones you used this year.
Sign in to your Seesaw for Schools

Admin Account

.

Click on the Students tab.

Click on the 4 lines button.

Click on Export CSV of Student Accounts.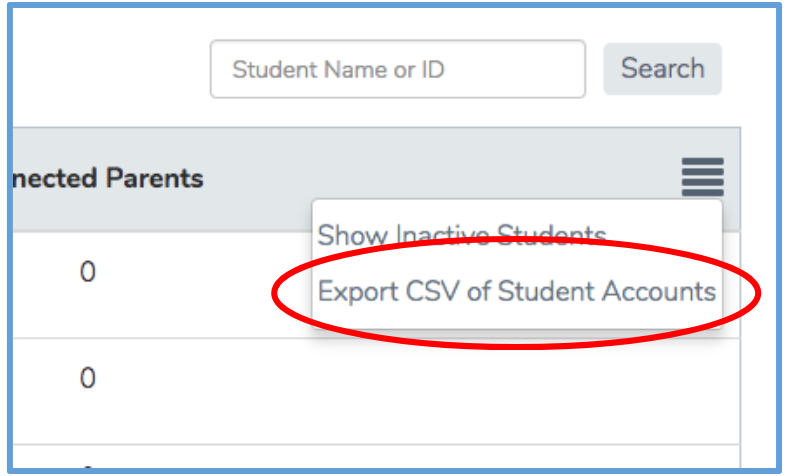 Step 3: Archive classes
Archive all of last year's classes in one step so that your teachers don't have to.
Sign in to your Seesaw for Schools

Admin Account

.

On the Overview tab, click on the "Archive Old Classes" link in the Admin Tools section.

Use the date selector to archive all classes created last year.
Parents will still have access to their child's content from prior school years through the Seesaw app!